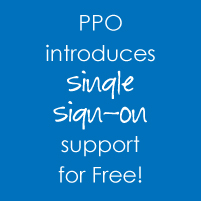 Project Portfolio Office aims to provide the best project management solution on the market. To do this, we make it a habit of listening closely to our users, taking note of the features they would like to see. And lately, we have been on a roll! If you haven't heard about our new invoices in PPO, you can read about them here.
But, we didn't stop there! We are also introducing a new feature that will take away the pain of having to remember yet another username and password.
We're excited to announce Security Assertion Mark-up Language (SAML) support for PPO. SAML support enables us to implement a single sign-on mechanism that will allow users to authenticate against their enterprise systems as an alternative to the normal PPO security.  This gives network administrators better control over resources consumed, as well as the added peace of mind that user identities are maintained from within their enterprise. For users, this means one less username and password to remember.
What does this actually mean?
If you are still not sure what the fuss is about, then consider how many applications you access from your mobile, tablet or PC on a daily basis. What about Facebook, LinkedIn, Amazon, eBay, YouTube, Twitter, Gmail, PayPal or Netflix perhaps? If that's not enough, then remember those internet banking applications and, more importantly, the day-to-day office applications.
Each of these apps requires some sort of authentication and it becomes quite a task to remember the usernames and passwords for each app. In the past, we secretly wrote it down, compromising IT security policies, and hoped that these scraps of paper were not misplaced and our user accounts were not breached. The alternative has been to use the same credentials across all apps, something that comes with its own set of risks.
What can users expect?
No more usernames and passwords for PPO! PPO's single sign-on supplies a single mechanism for authentication. PPO users will now be able to make use of the same network credentials when accessing their PPO instance.
How is this implemented?
This new feature is available to all PPO clients at no additional ongoing cost! By simply being a client, PPO provides you with this great value add for the same low subscription cost. So, if you are large organisation and want to control company resources across multiple networks using applications like Microsoft Active Directory (AD) and want to know more, visit our FAQ, FAQ: http://support.ppolive.com/entries/56094217-Does-PPO-support-single-sign-on-Technical-
PPO is an award winning online project portfolio management and collaboration application. PPO is simple, immediate, secure and affordable. PPO is flexible and can be configured to support any methodology and now supports single sign-on!