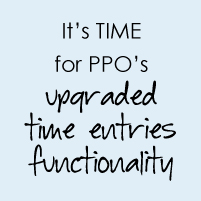 Project managers need to understand actual values for the time spent on projects (in terms of the original forecasts) when a project is coming to a close.  Project Portfolio Office's (PPO) time entry functionality has already entrenched itself as a useable and valuable way for clients to report back on the planned and actual time spent on various activities.
Now, due to popular demand and based on the increased usage and feedback and input provided by you, our beloved clients, we are happy to announce that the following improvements have been made to the time entries functionality:
Usability
Flexible population of the time entries page – previously the time entries page was populated simply with items that have been updated during the week. Now, users have the added flexibility to choose what they see based on pre-set options: "Items I have booked time to this week"; and "Items that I've booked time to last week"; or "Items I have updated this week". This will give the user added control over the items seen on the time entries page and save time searching for or recapturing items where time was previously booked. (http://support.ppolive.com/entries/20729086-Time-Entries#Populating)
Select "All" to submit approval requests – for organisations making use of time entry approvals, "Select All" and "Un-select All" options have been added to improve the ease with which time entries can be submitted for approval. (http://support.ppolive.com/entries/20729531-Time-Entry-Approvals
Billable default

–

previously the billable field was set to "true" by default. Organisations now have the added flexibility to define the default per instance and users can further specify their individual preferences. (http://support.ppolive.com/entries/20729086-Time-Entries#Billable)
Improved sorting on time entries page

–

minor inconsistencies in terms of sorting on the time entries page have been corrected and all items are now sorted alphabetically once the page has been submitted.
Remembering the page

–

upon submit, the time entries page normally defaulted back to the current week's items, even if time was being submitted on a previous or future week. This has been updated to keep the page that's being worked on even after the page has been submitted.
For more information, check out the video that explains these new enhancements.
Reports
The following two reports have been added to the reports repertoire on the pre-configured instances:
To add either of these to your instance, kindly submit a request via the support portal. (http://support.ppolive.com/tickets/new)
If your organisation is struggling to compare planned and actual values for time spent on projects, PPO's time entry functionality will allow you to tie back the actual time spent on planned activities. The outputs of time entries can show the management team which items staff members are spending time on, how much time is being spent per project or per activity. Comparing the actual time spent with what has been planned can also provide invaluable input to the planning process of future projects.