Over the years in training sessions with users, one question has been consistently asked when we get to the ins and outs of uploading and maintaining documents in PPO, "Can't I just drag and drop my documents into PPO?"
It's good practice for projects to store and maintain all project documentation in a single repository that can be easily accessed by the project team. PPO's Documents entity provides users with the ability to store and link documents of any format to entity records such as Risks, Issues and Tasks while keeping a history of previous versions of the document.
The document entity is an important feature in PPO because not only does it provides a secure repository for project documents, works together with project governance but it also provides a platform for collaboration on documents in the project environment.
Project documents often require input from various team members. Documents are emailed around but this can be a problem if edits are made in one version but not the other. Having a document uploaded on PPO means that while collaborating – the latest version of that document is in one place. In addition to this, PPO provides a Check in / out functionality to ensure that only one person can work on that document at a time.
Another area of collaboration when it comes to using documents in PPO is where users are able to link documents to other entities in PPO such as a risk. If a risk has information that is pertinent to its management, a document or documents can be uploaded on PPO and then linked to that specific risk. The risk owner is then able to easily access the necessary information when managing that risk on PPO.
If however a team has other means of collaborating effectively on documents, PPO is still the perfect place to upload the final document for governance purposes. The PMO can monitor compliance and manage gates when projects move into a new phase. Giving access to the auditors to view all the relevant documents in PPO is another win when using the document entity.
In the past, PPO has had two mechanisms that can be used to upload documents. One being browsing for your document when adding a document to PPO, the other being emailing a document or documents to documents@ppolive.com. In this case, PPO matches the users' e-mail addresses to their employee records and uploads and saves the documents. The document name will be used for the document title and, when the user logs into PPO, the document will appear on their Home Page under an Unclassified documents section. This has always been a great time saver especially when needing to add multiple documents to PPO.
We're all about saving your time so in addition to emailing documents to PPO, the good news is – we have made it easier for you! Hello Drag and Drop….
You now have the ability to drag and drop single or multiple documents on the home page as well as use the "Click here" option to add a single document. This is here by default and no configuration is required: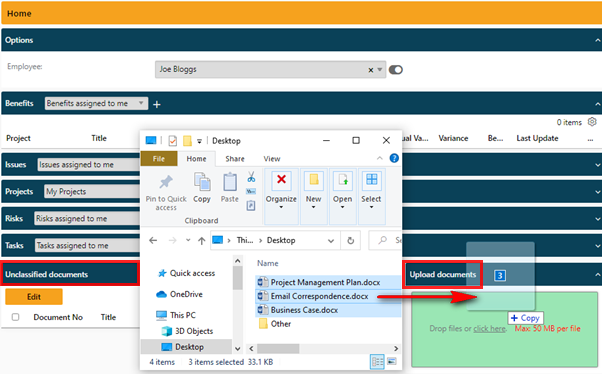 Once you have added documents in the Upload document box, they will appear under the Unclassified documents section the same way that mailing documents to PPO works. Just as before, the PPO Administrator can keep an eye on Unclassified documents in the Unclassified Documents Report.

You can select the above documents to allocate them to the correct projects.
In fact anywhere that a file can be uploaded into PPO has the drag and drop functionality:
The Add Document page: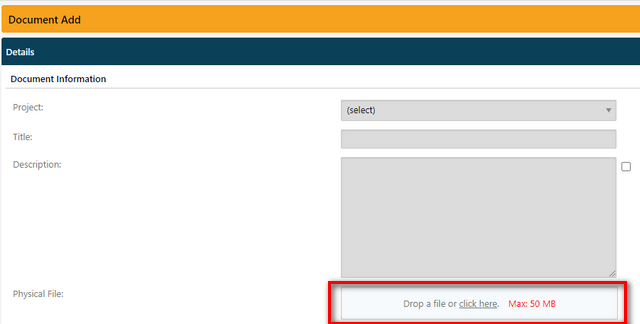 The Edit Document page: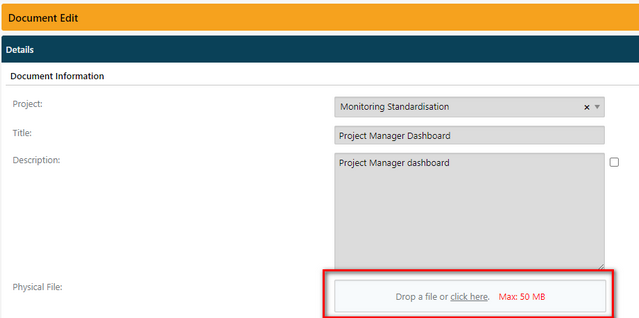 The Task Import Wizard page allows you to drag and drop your MSP or Excel Plan into PPO to import your tasks: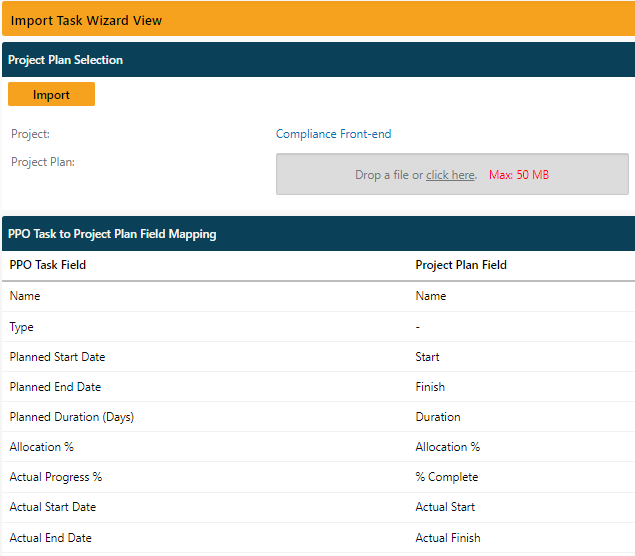 The Logo information page where the PPO Administrator can change the instance logo that appears in the top left corner and in the reports and dashboards:

Why not give it a try? Get those documents off your computer and drag and drop them into PPO.
Don't forget to let us know if you have any other product enhancement ideas!