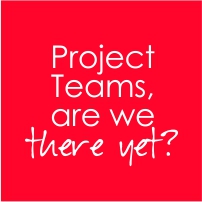 Does the phrase "Are we there yet?" invoke memories from your childhood? Why did we demand an answer every half-an-hour on a six hour trip? Perhaps the answer lies in the fact that, as kids, we had no concept of time, distance or the signs along the way, we were merely little passengers, perched on the back seat, peering through the windows.
Why am I using this analogy? The question "are we there yet?" applies to so many situations including those involving a project team. In fact, if your project team does not understand their involvement in the delivery of the project, they are also mere backseat passengers, completing their project work in isolation.
They need to be involved in the planning of the project, thereby taking ownership of their work and providing them with a sense of responsibility and accountability. This in turn ensures that their work is executed skilfully and with the necessary quality.  Regular stops along the route, like meetings and status reporting, are fundamental in confirming that all the project team members are aligned to the end goal and understand why "we are not there yet".
Can an entire project be managed in an Excel spreadsheet? Experience has taught us that it can't, as there is no function to track the task variances, issues, risks and scope changes. Notifications cannot be sent from Excel to team members, alerting them of items that need their attention, and no portfolio view is available of the status of all the projects that you are currently managing.
All of this and much more can be found in a tool like Project Portfolio Office (PPO). Within PPO, each project team member has their own home page, which shows them all the tasks, issues and risks for which they are responsible. With PPO, they can also easily access up to date reporting on the progress of all aspects of the project.
In short, PPO can give the project manager and his "passengers" a quick view on the progress, accountability and tasks that still need completing to reach their end destination, whether the reports are manually or automatically sent to the project manager on a weekly basis. Get the visibility required by your organisation, not only for you, as the project manager, but also for your "passengers".
Are you looking for a project management tool for your project teams? If so, try a free 30-day trial of Project Portfolio Office (PPO) today at www.go2ppo.com/try.php.
PPO is an award winning online project portfolio management and collaboration application. PPO is simple, immediate, secure and affordable. PPO is flexible and can be configured to support any methodology.