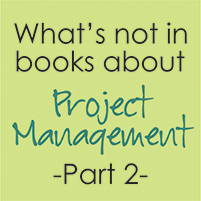 In part one of this two part series, I covered two of what I consider to be four key skills that are critical to project management success.  So far we've looked at resource conflict resolution and negotiation.  In this second instalment, we will look at problem resolution and the ability to push changes through on the projects you are managing for your customers.
Problem resolution
Handling the everyday expectations of project management is one thing; dealing with the problems that come up on projects can be a different matter.  One involves "going through the motions" of project management best practices.  That is not to say that is easy, but it can be a bit more ritualistic, more textbook, more obvious, more repeatable.  On the other hand, dealing with issues and problems takes creativity, patience, confident decision-making, and connectedness within the organisation.  None of those are easy, none just come with the job, and when it comes to the average individual, none of these skills are going to be present, because it's a different skill set and a different mindset.  Project management is difficult enough, even when things are going smoothly, but no project is without issues.  It is how the project manager is able to react to, and proactively manoeuver around, the difficult issues that will often determine success from failure.
 Pushing change through effectively
Nearly all projects experience some required change.  Usually, it comes in the form of a change to the scope that was either unforeseen or came up as a result of poorly defined or incomplete requirements.  When the customer says, "Oh, we need that…" is when the project manager must recognise they are about to deal with an issue that is not inside the original scope of the project.  Some of these are very small, and you must recognise those for what they may be: easy giveaways.  But many can be big – or become big – and those you can't just give away.  Those you must quickly recognise for what they are, document them, turn them into solid and reasonable estimates, and push them through the customer approval process as changes to the project scope, schedule and budget.  The project manager who can do that will find great success in the PM world.  Scope management and change management are dirty jobs and not everyone is cut out for it.  It often means delivering bad news to the customer, in the form of a higher bill for services to be rendered, and that is not for the faint of heart.  The good ones can do it and they don't back down.
Summary
I'm sure there are many other areas in which project managers must perform tasks and take charge of situations that no text book can help them master.  They either have the skills or they don't.  How we perform in these situations usually separates the truly good project managers from the bad.
What other grey skills are required in the PM world?  What issues have come up for you when you had to rely on instinct rather than something you learned on your PM course?  Please share your thoughts on these topics as well as your own experiences.