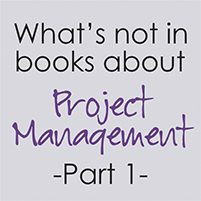 In some ways, project management is a black and white profession. There are standard activities you should do, must do and can do to help better ensure project success. You must communicate well and often, you should always produce timely status reports, you can always hold weekly team meetings to stay up to date on all task assignments, and you ought to plan well and manage all tasks against a detailed project schedule.
And then there are just as many things that you don't learn in the textbooks, the professional development unit (PDU) courses, or the "for dummies" books. Often, these are skills that you either have or you don't; some you can fake until you get them right (if you ever get them right), and some you may never acquire and you find that you have to get out of the project management world before it eats you.
Let's take a look at some of these and at the end, I would really like to hear your opinion and what's on your list.
Resource conflict resolution
Some individuals – even managers – would rather crawl under a rock than deal with any kind of conflict, wanting nothing to do with personnel issues. How they reach the position of managing resources, I do not know. But it happens. I once had an IT director who had hired me as the corporate application development manager for one of the largest gaming and hospitality resort organisations in the world. It seemed to me that I had been hired for two reasons: the first, because I was an IT AND PM guy and they needed both skills, and secondly, because he needed someone to dismiss some people and he didn't want to do it himself. Thankfully, that job was the push I needed to branch out on my own as a consultant….working for him was a nightmare.
Managing resources, when things are going well, isn't that hard. On the other hand, managing resources, when they are having issues with each other, the customer, or with you is a different story. Then, not only must you manage the regular activities of the project, but you must also get bogged down by personnel issues, from individuals who are supposed to be professional adults and should be beyond the pettiness of it all. I am not saying that all personnel conflict issues are petty, but many of them are. You can pass it back to their direct supervisor, if you must, but that isn't going to fix the damage it is doing to your project. As the project manager, you need to deal with it. To do that effectively, you need to meet with the troubled resource or resources, discuss the issues, and bring them together with their area of conflict, which is usually the other resource. If common ground can't be reached, then you need to replace them and get a new resource up to speed as quickly as possible. You need to be sincere about your conflict resolution efforts, but the main focus has to be keeping the project on track.
Negotiation
Being a proficient negotiator isn't easy and it isn't something that you usually learn in a book or on a course. You must be a strategist, a salesman, a visionary, and an entrepreneur all rolled into one. Sometimes you may have some of the skills and can learn the others along the way, and sometimes it just never comes. But nearly all project managers, in order to be as effective as possible, need to be negotiators at some point. Usually, the need for negotiation comes up when new requirements are introduced, or when a certain functionality needs to happen earlier in the project, or when more funding is needed, and so on. It takes a skilled and experienced project manager to recognise when these issues may come up and put themselves in a favourable negotiation position with the customer by having some reasonable options ready to present. The best course of action is always to keep forward project momentum going and to keep customer satisfaction and confidence at the highest levels possible. The project manager who panics, or who doesn't know how to favourably negotiate through the issue, may find themselves with a project whose budget or schedule have now been compromised…and that project manager will be playing catch up for a long time going forward.
In part two of this two part series about project management, we will look at two more areas: problem resolution and pushing changes through effectively.