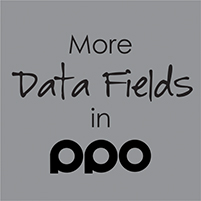 Have you seen our newest enhancement? Of course, you have, it's hard to miss! Our latest enhancement has added an additional 20 project data fields and an average of 15 more fields across other entities.
Why is this good news? For those of you that don't know what the fuss is about, data fields are used to capture information in PPO. More data fields create a number of opportunities that may have not been possible previously, like, creating more structure for your input data, implementing calculated fields and automation.
This enhancement, like many of the previous changes that you have seen this year comes from or idea portal allowing us to develop new features based on what our users want. All product updates are free to our clients as part of our subscription agreement and are immediately available.
For more on how to optimise your PPO instance with this great new feature, please contact our support team, http://support.ppolive.com/home