Wondering why the topic of 'project management' came to me today?  Good guess…because today is one of those days that I don't want to lead.  I don't want to be in charge.  I don't even really want to be the parent today.  Thankfully, that is always temporary and usually only when I am sick or very sleep deprived or both – which is the case today.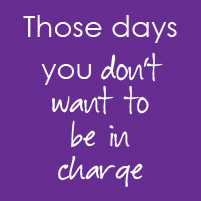 What about the project management role?  Raise your hand if you've ever thought, "today I don't feel like leading…I just want to follow."  Come on…you know it's happened at least a couple of times and it's ok to admit it.  The problem is, as the project manager, you do still have to lead.  But it doesn't always have to be hard.  In fact, the more you focus on best practices routinely in your project management leadership roles, the less chaotic that leadership will be and the less burdensome that leadership will seem.
 True, if you're always shooting from the hip, always fighting the latest fire, always trying to multi-task and never seem to get anything done, and if you're always being reactive rather than proactive, then you're going to often find yourself having those days where you don't feel like being in charge…because you're probably making being in charge harder than it needs to be.
 Again, go back to the best practices management.  Focus on the top priorities first and move on down the line.  Accomplish and move on, rather than trying to fight 15 fires at once that probably wouldn't have been created in the first place if you were managing differently anyway.  You know those "Stay Calm…" t-shirts?  They should print a shirt that says, "Stay Calm and Manage On."
 So, what best practices will help us stay ahead of the game and, hopefully, keep most of the chaos under control?  I think best practices are a little different for everyone and for different organisations – even different projects.  For me, it's comes down to this list…
 Kick the project off right.  No matter how big or small the project, conduct a formal kick-off session to get everything off on the right track and to make sure that everyone is on the same page from Day One.  The fact that you took the time to do this right will pay dividends throughout the entire project engagement.
 Conduct weekly status meetings.  Always produce a weekly status report and revised project schedule and always conduct a weekly status call or meeting with the customer.  It doesn't matter if it's just a five-minute phone call some weeks, but be sure to do it. Also, conduct weekly team meetings, as it will help you prepare for the customer meeting and all the information that goes into that process. It will also keep your project team engaged and focused on YOUR project…which is good because they probably have three or four other projects they are working on, too.
 Keep the customer engaged.  Keep tasks assigned to the customer throughout the engagement so they always feel like they are contributing and have to stay in touch.  If you let them drift away it makes your job harder when you need to reach out to them for information or decisions.
 Continually forecast.  One of the easiest and fastest ways to keep things running smoothly on your project so that it doesn't become a nightmare is to continually (at least weekly) review and adjust your financial and resource usage forecasts.  That way, you avoid surprises and neither of those will get out of control before you are able to take corrective action.
 Summary
 This is a short and somewhat logical list.  But if you focus on these and make them habits every week as you're managing your various project engagements, the hope is that you will avoid having those days where you don't want to be in charge.  You will not likely feel the extreme pressure of being overburdened with projects that are floundering and experience chaos and constant issues.  How about your list?  What helps you stay ahead and out of trouble on your projects?  What keeps you from wanting to throw in the towel and just follow on those really tough days?
For more of Brad's views on project management, please visit his blog.