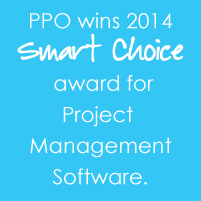 Project Portfolio Office (PPO), an online project portfolio management (PPM) and collaboration application, has garnered a Smart Choice award from FindTheBest.com, in the project management software category. After combining reviews from several professional sources, PPO produced a score of 92 out of a total 100 points
As a leading, unbiased destination for research, FindTheBest aims to help people think like experts in hundreds of topics, from electronics to education, health to software, real estate to companies, and more. FindTheBest equips users with the best information and resources to ensure they find exactly what they are looking for in every stage of the research project.
The site gathers ratings from the most respected experts in each category, assigns a normalised score (not every critic has a one – 100 system) to each review and presents users with one overall rating, which it calls the Smart Rating.
"This recognition comes on the back of a phenomenal year for Project Portfolio Office (PPO), throughout which the common theme across the board was expansion and international delivery. 2013 saw us make some a number of infrastructure and architecture improvements, migrating our primary production servers to Amazon Web Services, the largest cloud infrastructure provider in the world. This provides a number of benefits, including enhanced reliability, better performance, faster fail-over in the event of disasters, and improved security. In addition, global implementations for SABMiller, PCCW, UTi and other organisations have brought us new users in countries such as China, Hong Kong, Poland, Spain, Hungary, Belgium, United States, Columbia, Peru and Ecuador, to name a few," says Guy Jelley, Project Portfolio Office CEO.
FindTheBest.com drew special attention to PPO's project portfolio management capabilities, specifically cost, document, risk, resource and task management functionalities, amongst others, and also listed its collaboration, tracking and scheduling features as the solution's key to improving efficiency, effectiveness and providing greater business value.
PPO users worldwide have also attested to these benefits. Says Stefaan Basson of UTi: "PPO has taken the complexity, administration and costliness out of managing a project on a PPM tool by simplifying the design and inputs and maximising the outputs and reports to ultimately run and complete projects successfully."
"The Smart Choice awards are only given to products that have consistently received high ratings and reviews from trusted expert sources," concludes Jelley. "The 2014 Smart Choice award, along with our consistently positive client feedback, is a testament to PPO's quality, reliability, and performance as one of the best project management software products available today."
About Project Portfolio Office
Project Portfolio Office (PPO) is an award winning online project portfolio management (PPM) application that assists project teams within organisations of any size and across all industries to plan, manage, collaborate, execute and report on projects, programs and portfolios. PPO is simple to use, can be implemented immediately, and is secure and affordable.
Try PPO free of charge at www.go2ppo.com