We're proud to announce that we're introducing an improved Help Centre. Whether you're just getting to know PPO or you're a seasoned veteran, the new format will help keep our support portal fresh, exciting, and accessible for years to come!
The look is a sleek, neat, and the simple new interface is meant to make the user experience seamless across devices on all screens — whether you're using a desktop, phone or tablet. In addition to a leaner overall look, the Help Centre adds a few subtle navigation changes that make the support experience more interactive and visually pleasing (so we think…).
Here are some of the changes PPO users have to look forward to:
Help Centre Home Page – The Home Screen has been overhauled and all that text (yeah, we knew) has now been replaced with 6 key sections, Frequently Asked Questions, Knowledge Base, Community, Status, Blog and Resources
Submit a Request – It's the same as its always been (we promise) and the button is now located in the top right hand corner of the screen
Check your existing requests vs My activities – This still covers all the standard functions of managing open, pending and solved request and this just got a name change and is located next to the Submit Request in the top right hand corner of the screen
Downloads vs Resources – We've finally made it easier for you to figure this out and simply renamed Downloads to Resources where you can access the MSP Add-in, Fact Sheets, Brochures, etc.
Idea vs Community – Just in case you forgot, the Idea portal was a way for you, our valued user to request product enhancements and the new Community still does exactly that and just got more interactive. We need more than just a few lines to communicate this awesome enhancement so watch your inbox for more on this feature.
Out with old….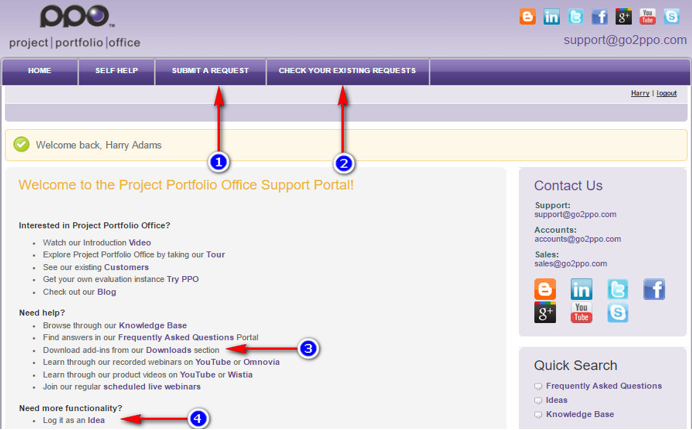 And in with the new….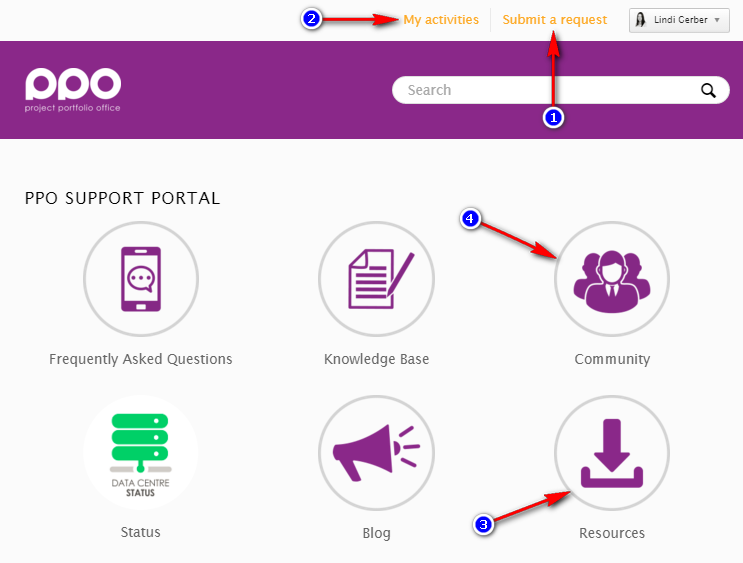 This update focuses mainly on improving the user experience and showcases a new, cleaner design for easier navigation. Steps to navigate have been minimized and we hope that these changes strike a balance between enhancing the design and usability of our Help Centre while maintaining consistency in the legendary support service to which our clients know and love.
Stay in the loop…
Subscribe to our PPO community of bloggers for regular news updates on what we're up to here at PPO
About Project Portfolio Office
Project Portfolio Office (PPO) helps small consultancies to global organisations achieve greater project success by implementing a simple to use, cloud based yet enterprise scalable project portfolio management application. With no long term contract, pre-configured solutions, free online trial & learning videos you can be running your projects within 30 days.