Since launching Conversations in 2022, it's become a popular collaboration feature among project teams. So, we've added an improvement that will make your day-to-day life easier, specifically for capturing Time Entries. You'll notice that when the "Items I updated this week" filter under Options is applied on the Time Entries page, your time sheet is pre-populated with items where you've started or replied to a Conversation, in addition to the entity updates.
This means you'll no longer have to scratch your head to remember all the items that you've worked or spent time on, making it super easy to complete your time sheet.
Email for Unread Feed Items is Live
We know a lot of you have been waiting for this one, and it's finally here! Since you asked, we listened and introduced more than one way to stay on top of your feed. In addition to the notification count in your browser, the bell and the alert, we're sending a weekly email reminder of unread feed items that are older than 2 days.
Here's what that gentle nudge looks like…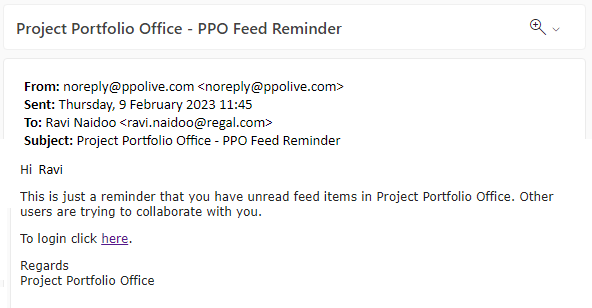 By default, you'll receive a weekly email every Thursday, at 11h45 (GMT+02h00) if you have feed items that have not been read that are older than 2 days. We've still given users the flexibility to control this and allowed for this to be maintained as a preference setting. Users can uncheck the "Receive e-mail notifications for unread feed items" checkbox if they don't want to receive this mail.

Mark feed items as unread and never drop the ball again!
Yes, it's true it's happened to me too. You're checking your feed a couple times a day and you thought you were on you're A-game, but sadly forgot to get back to an active conversation after viewing your feed. We've got the solution! Now, with the handy new envelope, you can mark items as unread even after reading it. Simply click on the envelope on the right side of the feed notification to toggle an item between read or unread. And, of course, items that have been marked as unread for more than 2 days will also be included in the weekly email for unread feed items.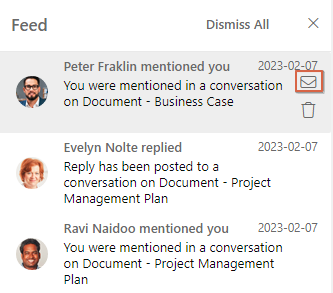 Our hope is that this tiny tweak to your feed will help you to stay on top of your feed items and continue to be great at getting the job done!
We do our very best to make PPO better every day, so we'd love to hear your feedback on these latest enhancements.
Don't forget to let us know if you have any other product enhancement ideas! Drop us an email or log an idea on our community portal please. More importantly, keep up to date with all our new product information by subscribing to our blog.