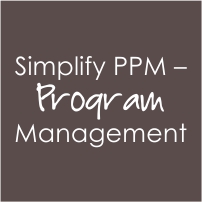 This is the next posting in our "Simplify PPM" series. The aim of this series is to eradicate the, often unnecessary, over-complication of project portfolio management, providing clear and effective explanations and guidance for our readers. This post explores programme management (sometimes spelt program management) specifically.
There are lots of articles about, and definitions of, programme management, and even more on project management. But how do you tell the difference between them and are there clear markers to spot the difference between the two? If so, how can they be presented in a simplified format?
A project can be defined as a temporary entity established to deliver specific outputs in line with predefined time, cost and quality constraints.
In contrast, a programme is defined as a portfolio that is comprised of multiple interdependent projects that are managed and coordinated as one unit, with the objective of achieving outcomes and benefits for the organisation.
So, to clarify, the differences are:
| | | |
| --- | --- | --- |
| | Project | Programme |
| Number | Single | Multiple |
| Duration | Definite | Ongoing |
| Output | Output | Outcome and benefit |
| Scope | Strictly limited and tightly defined | Fluid and flexible |
| Likelihood to change | Governed by change process | Highly likely to change |
It should be fairly easy to apply this table to any work you're currently involved with and determine whether it's a project or a programme:
Projects would include:

Implementation of a new ERP system;
Development of a new consumer product; and
Development of a new shopping centre.

 
Programmes would include:

Improvements to existing sales processes for greater conversions;
Cost reduction of manufacturing sites; and
Creation of a rapid rail network for a metropolitan area.

 
Are you looking for a PPM application that will allow you to manage projects and program (and programmes)? If so, try a free 30-day trial of Project Portfolio Office (PPO) today at www.go2ppo.com/try.php.
PPO is an award winning online project portfolio management and collaboration application. PPO is simple, immediate, secure and affordable. PPO is flexible and can be configured to support any methodology.