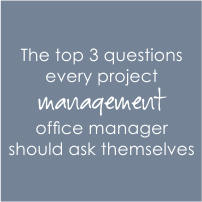 Project management has found its way into almost all organisations, across all industries and sizes. This is mainly due to the fact that organisations have begun to understand the benefit that a formal project management approach can provide in driving the achievement of their strategic objectives and goals.
That said, the establishment of a project management culture within any organisation is a long and difficult journey. Frequently, executives are convinced of the benefits of a project management culture and the establishment of a project office, programme office or project support office is approved. However, if the benefits are not achieved, the entire value of project management is once again called into question.
So, if you're responsible for the success of project management within your organisation, there are three top questions you really need to ask yourself:
Can you provide portfolio status reporting in real time?
Executives need access to real time information on the status, health, risk and benefits of the current and planned portfolio. Often this information is required to make critical decisions and, if your organisation has a project office, you should be able to provide information in real time to any executive.
Project offices typically implement project and portfolio management (PPM) applications that provide real time executive dashboards and views, and are accessible from anywhere 24/7. If your project management culture is entrenched and you've implemented project management software then you should be able to easily answer "yes" to this question.
If you're not using any project management software and are doing this manually, it's probably very administrative intensive, but it's extremely important that status reporting is done frequently (in most cases weekly), consolidated quickly (normally within a day) and made accessible to executives.
Can you trust the status of your portfolio reporting?
Having access to the portfolio status information in real time is only valuable if you can trust the information. Executives need to know that the necessary standards and governance processes are in place and are working, such that they can rely on the information to make key business decisions. Making decisions based on incorrect, incomplete or out-dated information will question the very existence of project management within your organisation.
When portfolio reporting is initially established, either manually or during a PPM tool implementation, the majority of time spent is to ensure that the data available is accurate and meets the obligatory data quality requirements. If your reporting process is manual, then managing the quality of the portfolio reporting could be very time consuming but is also extremely important and must not be ignored.
Managing project status and portfolio reporting using project management software makes for huge time and cost savings, and if your software supports it then the managing of the data quality could be done automatically. Good examples of this are UTi and Kimberly Clark, two leading international organisations with strong project management approaches that are using Project Portfolio Office (PPO) to manage their portfolio data quality, read how here:

Do you know which projects and project managers need your help?
Whether your project office's focus is to provide support to your organisation or to govern a defined methodology, it's important that you know which projects and project managers need your help, before it's too late. These managers will typically be working with project owners and sponsors from all departments or divisions within your organisation, and being proactive in providing help to challenged projects and project manager is one of the best ways to ensure that the value and benefit of your project management approach is protected.
Implementing a project management methodology that is embedded and used by your project managers is one of the easiest ways to see challenged projects. Project managers should be encouraged to use the methodology to run their projects and use the defined reporting templates to provide all status reporting. This, in turn, will allow the project office a 30,000-foot view of the entire portfolio and challenges can be quickly identified.
Projects with progress, risk, benefit, cost and/or scope issues should be easily identifiable and allow the project office to sit down with the project managers (and sponsors and owners if necessary) to provide support and guidance to remedy the challenges and ensure the project can be successfully completed. If you've already implemented project management software that allows your methodology to be integrated into the software, then it probably already performs all status reporting and you should be getting your 30,000-foot portfolio view, similar to the example dashboard below.

Without this type of view you might only find out about challenged projects when it's too late!
If you battled to answer "yes" to all of these questions, we can help you! Try a free 30-day trial of Project Portfolio Office (PPO) today at www.go2ppo.com.
PPO is an award winning online project portfolio management and collaboration application. PPO is simple, immediate, secure and affordable. PPO is flexible and can be configured to support any methodology.