Project planning is a critical component of every successful project, but how do you strike the balance between too little and too much?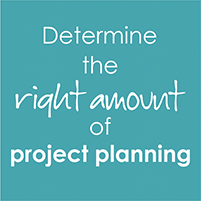 Post Vision Technology CEO, Guy Jelley is of the opinion that too much planning can be just as harmful to a project as not enough. "Many companies are so concerned about wasting time in planning that they get started on a project without fully understanding its scope or even having an end goal in mind. This is a recipe for disaster as critical elements, such as change, communication and risk management, will not have been properly addressed and this will most certainly lead to failure.
"Too much planning, on the other hand, can end up eating into precious resources, considering both budget and time. Not only this, but morale can drop if the process takes too long, as goals seem to be completely beyond reach and it is difficult to keep staff motivated and excited about the new project. Too much time spent on planning generally means that once again, the project scope and user requirements are not fully understood, or even that too many people may be involved with planning."
So, how much planning is just enough? Jelley maintains that a good rule of thumb is to dedicate around 20 percent of the overall project effort to the planning process (which includes the initiation phase).
"It is critical that the full extent of the project is understood upfront, so that it can be broken into smaller, more manageable iterations or phases if necessary. Also of great importance is that the correct stakeholders are identified, involved and committed from the start.
"However, the planning team needs to be limited to the appropriate individuals as well as to the correct level of people, as the wrong type or rank could lead to too much detail or too little. Should the team involve a number of different stakeholders, smaller, more detailed planning sessions can be held with different members of the team as needed."
Jelley maintains that the correct processes, techniques and methodologies must also be in place in order to create the perfect planning environment. "For example, many companies find that planning workshops with fixed agendas are helpful, or that using certain tools facilitate planning as specific structures and processes are already in place. Others make use of specific non-related facilitators and even off site venues to drive out planning sessions.
"Using a solution like Post Vision Technology's Project Portfolio Office (PPO), an online project portfolio management (PPM) and collaboration application, can highlight where and why projects get stuck in the planning process. This can be done as projects of all sizes and complexities have been benchmarked in order to set medians built into PPO, against which projects can be tracked. Should a project exceed an average benchmark, users are then alerted.
"Another benefit of PPO is the visibility that it creates, something that is key when going into planning. In fact, the tasks and activities to complete project planning should be your first set of deliverables loaded on a PPO project.
"Unfortunately, there is no 'one size fits all' resolution that can be applied to all projects. There are far too many different types of projects and diverse environments for this to be the case," Jelley adds. "Each organisation needs to find the right balance for itself and the type of visibility created by a solution like PPO is the first step to understanding and correctly gauging how much planning is enough for you."