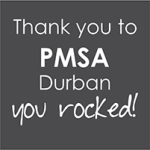 We at Project Portfolio Office (PPO) believe in building great partnerships and that's why we have hooked up with Project Management South Africa (PMSA). As the provider of the coolest online project portfolio management app out there, we make it our mission to collaborate with other cool people out there. The PMSA Kwa-Zulu Natal Chapter is one of them and we want to thank these amazing people for inviting us to celebrate International Project Management Day at the Durban Country Club.
We sent in the big gun, Guy Jelley our CEO, who wowed the audience with his presentation on "PMO's – getting it right!"
We think the event was a huge success (photos don't lie) and we want to thank the PMSA for organizing such a wonderful event and for getting our "Gautengers" to the beach again.
Subscribe to our blog and follow us on the journey to advancing professional project management in South Africa.