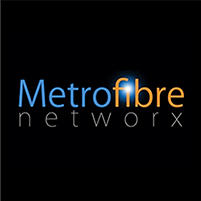 Metrofibre Networx supplies managed bandwidth services between customers and their preferred service providers. They interconnect all services like, internet access, email, hosting, voice or even disaster recovery type data, passing through all the major commercial areas. This service is specifically delivered to the small or medium enterprise (SME).
Metrofibre Networx was looking for a simple project management solution to aid and promote collaboration across projects. The nature of their projects requires constant feedback from project team members specifically contractors. By implementing Project Portfolio Office (PPO), Metrofibre Networx has achieved their need for a consolidated, real-time view of the project portfolio. PPO allows virtual team members to provide real-time progress updates anywhere, anytime which makes it easier for project managers to take action quicker thanks to the improved visibility.
Metrofibre  Networx with the help of PPO, an online project portfolio management application is lighting the way forward in supplying infinite broadband connectivity to their customers.