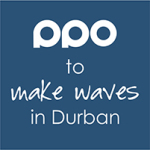 As part of our ongoing support of the good work done by Project Management South Africa (PMSA), a voluntary professional association representing the interests of project, programme and portfolio management practitioners in South Africa, Project Portfolio Office (PPO) has pledged to become more involved in the organisation's KwaZulu Natal and Western Cape chapters.
To kick this off our CEO and co-founder, Guy Jelley, will follow up PPO's sponsorship of and involvement in PMSA's recent Biennial National Conference 2014, by addressing KwaZulu Natal-based members and other interested individuals at its upcoming event in Durban.
Entitled "PMOs – getting it right", the evening event will take place at the Durban Country Club on Thursday 6th November 2014. Here, Guy will share practical examples and simple lessons of how PPO's clients have gotten it right and are adding value to their organisations.
The date for the event was specifically chosen as it is also International Project Management Day, a day that aims to bring worldwide recognition to the many project managers and project teams in every industry – something that we're sure all attendees will identify with!
For more information on PMSA's KwaZulu Natal chapter or the upcoming event, please e-mail kzn@projectmanagement.org.za or visit http://www.projectmanagement.org.za/events/event_details.asp?id=512718.