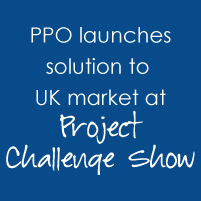 Project Portfolio Office is using the upcoming Project Challenge Spring Show as a springboard to further accelerate the growth of its global footprint. With offices in South Africa and London, the company's flagship offering, PPO, is one of the fastest growing project and portfolio management (PPM) applications developed and supported for project organisations, currently used for more than 35,000 projects across Africa, Asia, Europe and the Americas.
Released in 2005, PPO was designed by project managers to assist project teams within organisations of any size and across all industries, helping them to plan, manage, collaborate, execute and report on projects, programmes and portfolios.
Says Project Portfolio Office CEO, Guy Jelley: "PPO's cloud-based application is simple to use, yet enterprise capable, with numerous preconfigured solutions available. A true Software as a Service (SaaS) application, PPO is available immediately, with no long-term contract and billed per active user per month with real-time ability to change your user base. The solution is also flexible and can be configured to support any methodology.
"The Project Challenge Spring Show will be PPO's debut appearance in an open forum environment in the UK and we plan to showcase the solution itself, as well as to meet with potential UK partners and project management consultancies, in order to grow our local partner model," he explains. "The benefits of becoming a PPO partner include the ability to offer a complete technology solution to their clients and the fact that project management consultancies are able, add complementary services around the PPO solution."
Not only will PPO's ease of use and adaptability be demonstrated on the Project Portfolio Office stand at the show, the organisation will also be screening its 90-second explainer video, which gives a brief, yet succinct description of the PPO application and its many practical benefits, as well as presenting case studies from some of the more than 200 implementations of PPO at global companies including Deloitte, PricewaterhouseCoopers, Old Mutual, UTi, Kimberly Clark and SABMiller.
In addition, Jelley will be presenting research done on why so few organisations see the planned benefits and returns of their project and portfolio management application implementations, and provide guidance on how to avoid failure in your PPM implementation.
Visit Project Portfolio Office on Stand 94 at the Project Challenge Spring Show.
About Project Portfolio Office
Project Portfolio Office (PPO) is an award winning online project portfolio management (PPM) and collaboration application that assists project teams within organisations of any size and across all industries to plan, manage, collaborate, execute and report on projects, programs and portfolios.  PPO is simple to use, can be implemented immediately, and is secure and affordable.
Try PPO free of charge at www.go2ppo.com