Project Portfolio Office is pleased to announce that version 2.3 of PPO will be available to all users on our hosted platform on the morning of Tuesday 26 August 2008 and to other clients by 5 September 2008.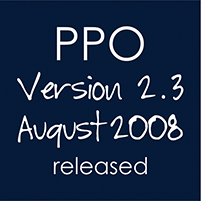 Due to our exciting growth, Post Vision, for the first time, enlisted the help of selected partners and clients to prioritise the enhancement requests and perform beta testing.  This has helped to ensure that version 2.3 is truly representative of what our partner and client base have been asking for.
The release highlights include:
Custom validation – A mechanism has been provided to allow custom validation to be performed when an item is added or edited. This functionality allows client specific business rules to be enforced, for example range checking of values. In this release, no front-end has been provided to set up these validation rules and administrators should contact their PPO Relationship Manager if they are interested in implementing validation rules.
Generic entities – Some clients have expressed a requirement to have custom entities (similar to issues, tasks, comments, etc). In this release of PPO it is now possible to have up to 3 custom entities which work in a similar way to the existing standard project entities. These custom entities, if defined, will appear in the Quick Page Locator as well as on the Project View Page. Some examples include defining entities for Benefits (for maintaining a Benefits Register) and Quality Items (for maintaining a Quality Log). In this release, no front-end has been provided to set up these custom entities and administrators should contact their PPO Relationship Manager if they are interested in implementing custom entities.
Dependent custom lists – When working with custom lists, it is often useful if the values that are shown in one list (the child list) is dependent on the value selected from another list (the parent list). An example of two lists that are related like this would be a Country list and a States/Province list. PPO now provides functionality to allow a mapping to be established between any two custom lists which indicate how the items in the two lists are related. This functionality is available from the Administration page. A parent field and associated mapping can then be specified on the Field Edit page (http://support.ppolive.com/entries/20774526)
Enhanced filtering – Previously, a logical AND was used by default between items in a filter, which restricted the types of filters that could be defined. An Evaluation Expression has now been added to filters to allow more flexibility in terms of how the terms of the filter are evaluated, including the ability to use a logical OR operation and specify the evaluation order using brackets. Filtering on Free Text Values is now also supported. A concept of a Current User has also been added. This allows, for example, User Group filters to be set up to limit users to projects where they are the Project Manager (http://support.ppolive.com/entries/20725811)
Negative numeric values – PPO now allows negative values to be specified for the Numeric and Currency field types.
Changes to required/mandatory custom list fields – Previously, if a custom list field was marked as required, the first item in the list would be selected by default. To force users to physically select an item from the list, a dummy item has now been added to the start of all required custom lists and the user will not be allowed to submit the changes unless a real value has been selected.
Display document size – On the Document View Page, the physical size of the document is now shown next to the file name. This will allow users to decide whether they really want to download large files (http://support.ppolive.com/entries)
Default to Life Cycle page – It has been requested that some users should only have access to the Life Cycle page (and not the Home Page). The Logical Access Control has therefore been changed so that there is also a Home Page setting. If a user is denied access to the Home Page, the user will automatically be taken to the first available menu item that the user has access to (e.g. the Life Cycle Page).
Proxy server support – An enhancement has been made to the PPO Microsoft Project Add-In to automatically detect and use a proxy server if one is present.
We hope you enjoy it and look forward to your feedback.