We are pleased to announce that version 2.2 was successfully deployed!  Herewith a summary of all the enhancements included in this release!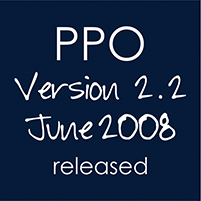 Performance enhancements
 A significant number of improvements were made to enhance performance both from a technical point of view and from a user experience point of view.

 
Paging on list pages           
Paging was implemented on all list pages, which improves the performance of PPO from an end-user perspective as it significantly reduces transmission time of large pages. The number of items that are displayed on a page can be set by each user individually in their preferences (http://support.ppolive.com/entries/20724481)

 
Mail Document to Me functionality
On the Document View page there is now a button which will mail the document to the logged in user. This is especially useful for large documents, where you do not want to wait for a document to download (http://support.ppolive.com/entries/21326678)

 
Document check-in and check-out functionality          
PPO now provides document check-in/check-out functionality for those customers that require greater control over documents. This is an optional feature which can be enabled by the System Administrator in the Configuration section (http://support.ppolive.com/entries/21326678)

 
Log support calls     
A Log a Support Call button has been added to the home page to allow users to log general support calls (which are neither bugs nor enhancement requests).

 
Integration web services  
A number of web services have been implemented which allows easier integration with third party systems.
Mailbox monitoring
The PPO mail service component can now monitor multiple mailboxes. This allows more flexibility for e-mail based integration.