Version 2.0 is now available and includes benefits for all our clients, partners and resellers.  In addition to the technical improvements made, the biggest value we see in the new version is the hosting and rental opportunities.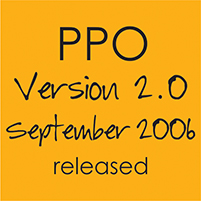 This release is yet another confirmation to our partners that we have a competent development team with the ability to provide a world class product to customers.
.Net framework port – In previous versions of PPO, a combination of managed .Net code and unmanaged COM+ code was used. Both the main application layer and the web front-end have now been ported to run as managed .Net code. For end-users, this has a number of benefits, including:
Multiple instances of PPO can now be run on a single web-server, which simplifies hosting for large organisations that have several departments each running their own version of PPO.
Improved performance, security and reliability.
Simpler deployment and upgrading.

 
Help file in PDF format – The on-line help file can now be downloaded in PDF format, by clicking on the link at the top right hand corner of any help screen.
Dates and time stamp added to all reports – The date and time on which a report was generated is now included at the top of each report for reference purposes if the report is printed out.