Project Portfolio Office is pleased to announce that version 3.4 of PPO will be available to all users on the morning of 1 September 2012.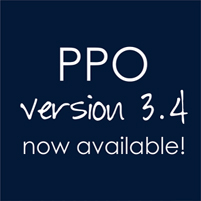 The new version includes several high-demand items that have been raised by and voted for by the very users that will benefit from the enhancements.
The use of PPO's Ideas portal has ensured that users can request new functionality, see when the new functionality has been planned for a version and receive updates once it is available. Follow the links to the Ideas portal included in the list of highlights below for more details.
The release highlights include:
The release will include a multitude of smaller enhancement requests, not listed above, and as always, all known bugs will be fixed.
Detailed information relating to the improvements in v3.4 will be available to users after the new version has been released via the "What's New" icon on the home page. Should you require training or additional documentation on the new instance, please submit a request from the PPO support portal.
We hope you enjoy the new version and look forward to your feedback.