We are pleased to announce that version 3.1 of PPO will be available to all users on the hosted platform on the morning of 30 October 2010.
As we are growing the user base, the opportunity to receive a wider range of enhancement requests is growing by the day.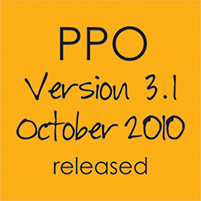 Herewith a summary of the enhancements:
Time entry functionality – PPO now includes a full time entry functionality allowing users to capture their actual time spent on projects (http://support.ppolive.com/entries/20729086)
Approvals – PPO now provides the ability to attach approvals to any other entity within PPO. As standard PPO supports approvals on time entries (see above), but approvals can be associated with other entities e.g. projects, scope changes, documents, etc. Approvals for time entries will automatically be created if this functionality has been enabled. For approvals on other entities, this is usually implemented with custom event handlers, e.g. when a scope change is added, an approval needs to be created. Together with custom event handlers and custom validation, PPO now provides the capability to implement complex workflows around approvals (http://support.ppolive.com/entries/20729241)
PDF rendering – Previously, PPO only allowed reports to be generated in portrait orientation and the PDF was rendered at a fixed screen resolution. For very wide reports, this could result in the report becoming difficult to read. Also where the report was very narrow, a lot of white space would appear on the report. We have made improvements to the PDF rendering and now allow reports to be generated in landscape orientation. We now also dynamically determine the appropriate screen resolution in order to minimize white space.
Improvements to Task Import from Microsoft Project – Previously we used Microsoft's OLEDB provider in order to import project plans. However, since Microsoft is no longer supporting the OLEDB provider, we have moved over to a third party utility to read Microsoft Project plans. This change allows us more flexibility and also allows PPO to import MSP 2010 plans (http://support.ppolive.com/entries/39756667)
Specify Life Cycle landing page per user group – Previously the default Life Cycle landing page was specified in the Configuration section. Therefore all users that had access to the Life Cycle would see the same landing page. This change allows a different default landing page to be optionally specified (http://support.ppolive.com/entries/20774741)
Disable e-mail events – For testing, support and administrative reasons, it is sometimes helpful to temporarily suspend outgoing e-mails for an instance. A configuration setting has been added to allow this (http://support.ppolive.com/entries/20724501)
Changes to cost list on project view page – All the other entity lists on the project view page was previously configurable (i.e. which columns to show) with the exception of the cost section (which showed a summary). We have now changed this so that it shows the detailed list and is also configurable (
Include project details on detail reports – For each of the project related entities in PPO (e.g. issues, tasks, risks, etc), PPO provides a Detail Report (e.g. Issue Detail Report) which provides an Excel based data dump of the selected items. In many cases it would have been helpful to also have the details of the project to which the entity is related together in one report. A check box has now been added to the report criteria selection to optionally allow the project details to be included in the report.
Improvements to report criteria – Significant changes have been made to how parameters are handled in reports and dashboards. This allows a lot more flexibility, especially when designing custom reports.
We look forward to hearing your feedback and providing further benefits for our future planned upgrades!