Version 3.0 is now available and includes great benefits for all our users!  The latest release includes: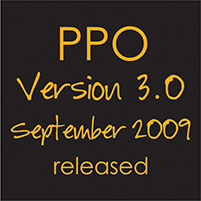 Automated planning –Significant improvements have been made to the resource planning module of PPO. Employees are now automatically planned based on the tasks that they have been assigned to. This will allow for improved resource management without the overhead of having to manually plan staff.
Additional planning reports – Additional planning reports have been made available including a 'Detailed Planning Report' as well as a 'Project Costing Report' (http://support.ppolive.com/entries/21460072)
Original file name – PPO now keeps track of the original file name (as it was originally loaded) so that when you download the file again it is downloaded with the same name instead of the internal name.
Calculated project health indicator – The Project Health Indicator field can now be made to be a calculated field, which may incorporate complex business rules and logic (http://support.ppolive.com/entries/21308468)
Changes to standard calculated fields – Changes have been made to allow more flexibility around standard calculated fields such as Risk Rating, Risk RAG and Cost Variance to allow clients to specify their own logic.
E-mail address made a required field – An employee e-mail address is now a required field, which should reduce the risk of new users not receiving their welcome notification
Additional history reports – History reports are now available for Issues, Risks and Comments.
URL field type – A new field type has been added for capturing URLs/URIs. This can also be used to reference resources that are stored on the client's internal network (http://support.ppolive.com/entries/21127678)
Hyperlink on employee fields – Clicking on an employee field (e.g. Assigned To on the Issue entity) will now take you to the Employee View page for that employee, providing for the easy look-up of contact information.
We look forward to hearing your feedback and providing further benefits for our future planned upgrades!