We are pleased to announce the introduction of the latest version of the PPO application!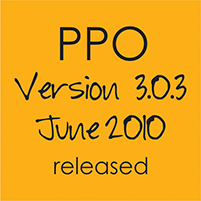 Additional changes to timesheet functionality (beta only) – Additional improvements to timesheet functionality, including approvals, improvements to data structures, reporting
Allow reports to be configurable – Changes were made to allow reports to be made configurable, e.g. which columns should appear on a report. This means that standard reports can potentially be tweaked for individual clients and also allows for better re-use of existing custom and standard reports.
Improvements to e-mail notifications – Improvements have been made to e-mail notifications to also show which values of the updated item has changed. This makes it easier to see at a glance what the progress is on an item (http://support.ppolive.com/entries/20746033)
Additional custom fields – Five additional custom fields have been added to the project entity as well as custom entities.
We look forward to hearing your feedback and providing further benefits for our future planned upgrades!