Today we are excited to announce the launch of another great feature, Board Views. This innovative addition to PPO will transform the way users interact with and visualise their data, offering a seamless and dynamic experience that empowers organisations to make more informed decisions.
As businesses continue to evolve in a rapidly changing landscape, the need for agile and comprehensive data management solutions has never been more critical. With Board Views, PPO has reimagined the way data is presented, enabling users to transform complex datasets into visually appealing and easy-to-understand boards. This feature will provide users with unparalleled flexibility to tailor their views according to their specific needs and preferences.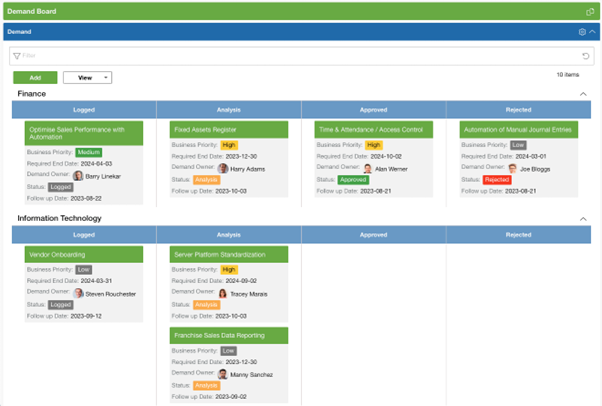 It's the first of two deployments we are planning, but today's deployment includes the following Key Features:
Visualise Your Data: Board Views revolutionises the way users perceive and interact with their data by presenting information in a visual board format. This intuitive interface allows for quick assimilation of information, fostering better understanding and decision-making.
Customise as You Like: Users can now design and customise their own board views to match their unique workflows. Whether it's managing projects, tracking tasks, or analysing risks and issues, Board Views offers the flexibility to organise data in ways that resonate most with users.
Real-time Updates: Stay on top of your projects with real-time updates to your feed. Making use of conversations together with the Board Views, ensures that users are always working with the most up-to-date information, enhancing collaboration and efficiency.
Streamlined Decision-Making: With information presented in an easily digestible format, organisations can streamline their decision-making processes. Insights that might have taken hours to extract from lists and reports can now be accessed in an instant.
User-Friendly Interface: Board Views has been designed with user experience in mind, providing a seamless, user-friendly interface that requires minimal training to master.
Cross-Functional Collaboration: Board Views simplify communication by presenting data in a format that is easily understandable by various stakeholders, regardless of their technical expertise. This encourages cross-functional collaboration and ensures that everyone is on the same page.
Storytelling and Reporting: Visual representations tell a story that is often more compelling than a spreadsheet or list. Board Views enable users to present data in a narrative format, enhancing the impact of reports and presentations.
Strategic Planning: Organisations often need to assess their progress against strategic goals. Board Views facilitate quick and simple strategic planning and reviews, by offering clear visuals of Demand, Projects, Milestones, and progress, enabling organisations to pivot or adjust strategies as needed.
We are thrilled to unveil Board Views, a monumental step forward in data visualisation and management. With this feature, we are providing organisations the ability to not only view their data but to truly engage with it. Board Views will empower our users to unlock deeper insights, enhance collaboration, and drive more successful outcomes. It will ensure that project teams and project managers are on the same page around progress, work load, dependencies, risks and blockers.
Watch this short video to see the board views in action:
Missed the webinar featuring Board Views, Interactive Dashboards and Configurable  Home Page? Watch the recording
here
.