Project visibility is almost always listed as a top priority for project sponsors wanting to understand the performance of projects and programmes for which they are responsible.  In my 15 years+ of working with our clients and performing the role of a project sponsor myself, I've witnessed many project managers acknowledge that connecting with project sponsors is no easy feat and struggle with what creating "project visibility" actually means. Project visibility is about all stakeholders knowing how the project is performing and the progress being made.  For project sponsors specifically, it's about having quick access to accurate information that allows them to take action and make decisions.
The tools and technologies applied to achieve complete project visibility are unique for every organisation thus rolling up project information in a useful way for project sponsors can vary. For environments that have not implemented a project management software tool like PPO, this is a manual and time consuming exercise. In contrast, using an online project portfolio management (PPM) tool facilitates real-time project visibility. We're committed to bridging the visibility gap between project sponsors and project managers and to support this, PPO has introduced new functionality. This new functionality allows project sponsors, project managers and other project stakeholders to access key project information directly from the home page.
More about accessing project information on the home page
For project team members and project sponsors working on a portfolio of projects accessing real-time project status information is critical. In addition to accessing project risks, issues, tasks already available on the home page, this new "project status on the home page" feature, stakeholders have a view of the project name, status, phase, required end date, project health (Red Amber Green) indicator, planned progress, actual progress, etc.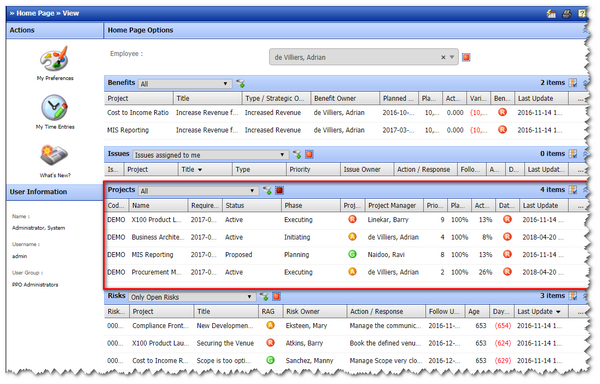 This new feature comes with increased responsibility for project managers to ensure that their information is accurate, clear, consistent and reliable. It also allows for project sponsors to take more accountability for their project portfolio and demonstrate commitment to achieving the project objectives.
Conclusion
In today's fast-paced business environment project sponsors are no longer overseeing one project manager managing one project and one team. Project sponsors are directing a wider range of tactical as well as strategic initiatives and greater project visibility is of the utmost importance.
Likewise for the project manager managing multiple projects simultaneously, this new feature is a constant reminder of your project status. For project team member user groups, you now have immediate access to a consolidated view of the projects to which you're associated.
PPO's home page is now a consolidated view of project summary information and all associated work items and hopefully brings project management teams one step closer to "improving project visibility"! Learn more about activating this feature here.