It's common practice for the project management office (PMO) to be tasked with introducing timesheets for the organisation's projects. This is normally driven for one of three key reasons:
The organisation wants to capitalise the cost of their resources on the projects being executed;
The PMO needs to recover the cost of their resources from the department requiring the project; or
The organisation wants to get a better view of where time is being spent, primarily to help improve their estimations.
Irrespective of why timesheets are required, it's important that the PMO consider the following when introducing timesheets.
Dealing with the why change
Introducing timesheets is a change to the organisation that can impact on many resources. It's important to articulate the reasons for introducing time sheets and communicate these reasons with the impact to the users long before the "go live" date. The discipline of getting the required resources to capture timesheets, manager approving them (if this is required) and the finance and/or PMO using the outputs can be tough depending on the organisations culture, structure, and ways of work. The implementation must thus have a large change management focus to get the resources onboard.
Which resources
While it might sound simple to say, "all resources", it's important the PMO consider which resources should be recording time to address the goal of why timesheets are being captured. Within PPO, we generally add a field on the Employee / Resource record that indicates who is going to capture timesheets. This list can grow over time as the process and disciplines mature. We've also seen that external providers and contractors are an easy win, they typically keep Excel timesheets to submit together with their invoicing so getting them to do a PPO timesheet is quick and easy, standardises the format and collects all their time spent in the PPO database.
What time do we record?
A resource generally works a set number of hours a day and when introducing timesheets, it's important to consider what time we want recorded. Some organisations will record the resources contracted working hours per day (in the PPO "Standard Hours" field) and then require them to capture all hours worked. This makes it easier to track missing time and where timesheets have not been completed. In other organisations, they simply record project time and thus all non-project time (overhead time, leave, operational work) is not recorded. This is easier for the resources but more difficult to manage missing time and incomplete timesheets. Some organisations manage this by using the resources planned capacity and set the project time planned capacity and request resources to book that time.
When does the project start?
Some organisations are very good at managing their project demand / ideas and all new ideas or project requests are immediately logged in PPO as a demand or potential project. Any work done on these projects are then done under these projects / demands. This is useful because documentation created, issues, costs and time spent can be recorded against this. If the project / demand is cancelled and doesn't move forward the PMO will still have a record of the project, its time, cost, and documentation. It's good to reject projects that don't support the organisations needs, so it's always recommended to have these potential projects / demands recorded and not only add projects to PPO when they are approved. Then all time spent pre-project doing analysis, requirement fits, business case or any other justification actions are lost and not visible.
What level of information is required?
When using PPO, organisations can capture time on a project level, activity level or even down to a work level (task, issue, risk, sprint, or work item). It's important to consider why we're doing timesheets and how the information will be used when considering the level. If you record time at only a project level, then it can support the capitalisation of resource cost but will not assist with improving estimations. If you capture at a work level, then it gives the PMO and resources a much lower level of information to be used for planning and estimation. When following an agile way of work capturing time on the work item / sprint level is crucial to burn down the time and track time spent per item. PPO's timesheets automatically add timesheet records to the user's timesheet for all items that they work on (add or edit) during the week, so it's actually very easy to record time on the lowest level as the timesheet is pre-populated with the work done and the resource just needs to provide the hours per day.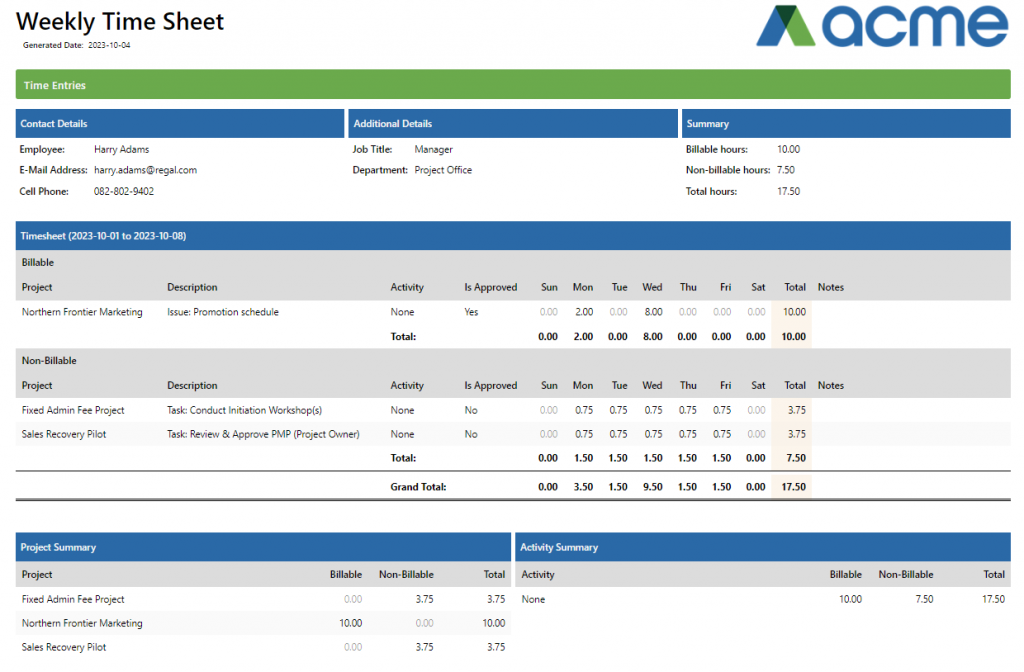 Are timesheet approvals required?
It's common for organisations to want to approve the time spent, so it's important to understand if this is required and who does the approval. Some organisations get the project manager to approve project time as it helps the project manager understand the time being spent on the work which may be capitalised to the project or recovered from the department benefiting from the project. Time spent when compared to the estimation will help the project manager manage the timeline and or burndown and better see delays before they happen. If the organisation is booking time for overheads, it's common to get the line managers of the resources to approve this time. PPO allows for each line on the timesheet to be sent to a different approver based on rules, but the PMO will then make use of outstanding approvals and timesheet approvals days reports to manage that line managers and/or project managers are approving time.
What are the timesheet routines?
In PPO, resources can record timesheets as the work is done, daily, weekly, monthly or any other frequency. What we've seen is that it's much more beneficial to record time daily. The resource provides more accurate time on the day that the work is done, the project costs are updated daily so project managers can better manage costs, the time spent vs. time planned can be seen daily so delays and overruns can be predicted and most importantly, if doing daily scrums and/or sprints, the burndown and time spent can be monitored each morning. That said, it's important to have an agreed routine, so that the timesheet administrators can track missing time, incomplete timesheets, and outstanding approvals. If a weekly routine is introduced, it's easier for the administrators to manage missing time and outstanding timesheets each Monday, after the week closed on Friday, outstanding approvals on a Tuesday and Wednesday and in most cases, come Thursday the previous weeks' time and approvals are all done. This reduces pressure at month-end on both the PMO and finance teams, but most importantly, on the approvers. If timesheets are only done monthly, some approvers will sit with massive amounts of approvals required within a short period of time.
Timesheet reporting & cut offs?
When an organisation introduces timesheets for resource time capitalisation or project recovery, it's important that the required finance process has a formal cut off. It is typical that the months' timesheet reporting be submitted to finance by the 5th working day of the month. This ensures the weekly routines are in place and working and that the monthly time spent can be processed timeously.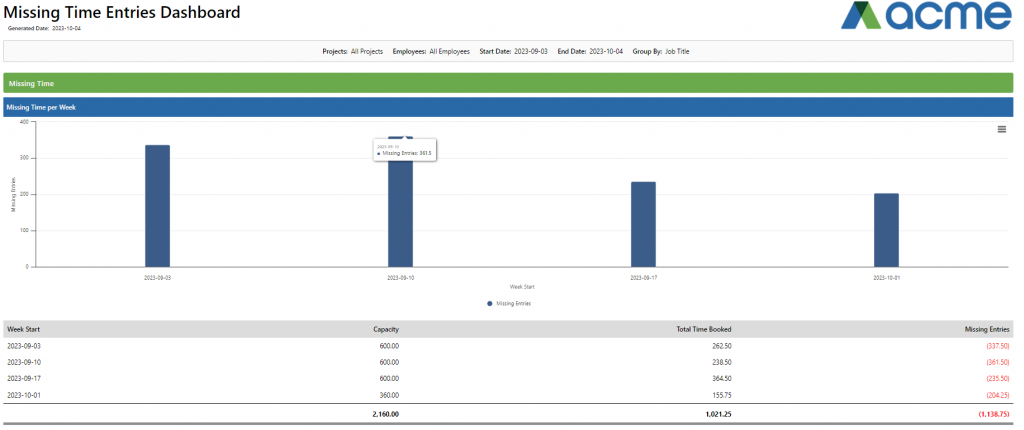 We've helped several organisations introduce timesheets using PPO. The complete process normally takes between 8-12 weeks depending on whether approvals are required, what reporting is required and whether automated labour costs is implemented (the ability of PPO to record actual project costs into the project cost section) or not. We typically also perform two month-ends with the introduction of timesheets to iron out any challenges, manage the change and adoption and then implement automated alerts, report mailers and exception reporting to help the PMO and finance teams better monitor and manage the process. A full implementation using PPO's sprint implementation approach normally looks like this:
Contact us today if you're considering timesheets for your organisation and access the standard time sheet functionality fact sheet here.