Project Portfolio Office is pleased to announce the introduction of the latest version of the PPO application, 3.4.1.  The enhancements include: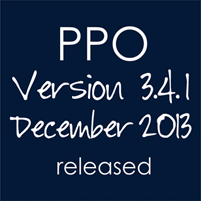 Changes to Business Rules – Over the past couple of releases, we have been introducing the concept of business rules, which allows you to specify e-mail notifications and set up custom validations. In this release we have continued with these changes These include:
Merging e-mail notifications with validation rules – Introducing a generic concept of a business rule, which encompasses the above two types
Changes to the Business Rule list page to support the above including the ability to filter the list of business rules.
Adding a new Business Rule Action which allows a web-service to be called
Enhancement to e-mail notifications – E-mail notifications are now fully-fledged business rules, which mean that you have the ability to set up conditions and exceptions. With conditional e-mail events, you can for example send out an e-mail if the phase of a project has changed. E-mail notifications will now also be sent if a bulk update is done (e.g. a task import or multiple edit). It should however be noted that notifications will only be sent out if less than 10 items are updated at one time to avoid spamming users.
Call web service business rule action – We have introduced a new Business Rule Action that allows you to call a web service. This functionality is extremely powerful and has been used by us previously to set up complex workflow processes for larger clients. Clients that have these custom event handlers will now be able to gain greater visibility on what has been implemented. What is more exciting however is that it is now possible for everyone to have these event handlers. At the moment we will still be restricting access to this functionality but in an upcoming release it will be fully available to all clients.
Custom conditions – Before we exposed validation rules through the front-end, all conditions were set up as custom conditions. We now provide greater visibility into these custom conditions by exposing them on the front-end (http://support.ppolive.com/entries/20746033)
History on user details – On the User Edit page, you will now be shown a history of all changes that have been made to that user account, similar to the way that we show history on all other items in PPO (http://support.ppolive.com/entries/21185853)
Hidden fields – We have introduced the concept of hidden fields, which allows you to designate a calculated field as hidden. This field will not be shown on the front-end but will still be available for filtering. This functionality is useful in integration and advanced filtering scenarios where you do not want the additional fields to complicate the user experience (http://support.ppolive.com/entries/21127678)
Billable flag on time entries – We have now completely decoupled the billable flag on time entries from whether a particular user has a charge-out rate or not. This should simplify the user experience as users always had a tough time understanding why the flag was set to a particular value by default (http://support.ppolive.com/entries/20729086)
Date/time globalization – PPO will now automatically detect in which time-zone you are and adjust system dates for your local time-zone.
Shared property on global filters – We have added a shared property on global filters. Only global filters which have this flag ticked will be exposed to other users as shared filters. This is useful where you have for example set up a filter for internal use, e.g. to drive report mailers (http://support.ppolive.com/entries/20745173)
Time scale on filter results – We have made some changes to the time scales available when further filtering search results. The new time scales are:  Last 2 years, Last year, Last month, Last week, Last 24 hours
Entity List redirect page – We have added a special page which can be used to link users to a specific list page within PPO from the life cycle page, with specific filters pre-applied. You can for example redirect users to a document list page, showing all template documents (http://support.ppolive.com/entries/21318232)
Enabling of custom entities – Users can now enable (or disable) custom entities themselves without having to log a support call (http://support.ppolive.com/entries/20745203)
Security enhancements – We have made a number of changes which further strengthens security within PPO.
We look forward to hearing your feedback and providing further benefits for our future planned upgrades!