Version 3.2.0 has successfully been deployed! The new version includes many high-demand items that have been raised by and voted for by the very users that will benefit from the enhancements.  The release includes the following: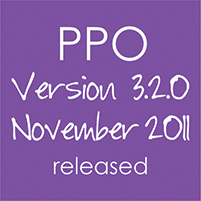 Search functionality – Significant improvements have been made to the search functionality in PPO to allow users to quickly locate information. This includes the ability to find items that you have updated in the past or which you were involved in, the ability to limit the search to specific types of items (e.g. documents) as well as the ability to limit the search to items which have recently been updated (http://support.ppolive.com/entries/20749898)
User configurable filtering on the home page – Previously, the filtering applied to the home page was pretty fixed, with some limited functionality to for example view issues that were assigned to you or where you were the contact person. We now allow the user to define their own filters for each section shown on the home page which allows a lot more flexibility to see only those items that interest you (http://support.ppolive.com/entries/20725876)
Shared filters – We have introduced the concept of "Shared Filters", which allows administrators to create pre-defined filters, which are accessible to all users (http://support.ppolive.com/entries/20745173)
Improvements to criteria section on list pages – We have simplified the list pages by removing the dual criteria modes on the list pages. We have combined the best of both modes by allowing you to specify a combination of filters and field criteria. We now also allow each user to customize their own criteria fields (http://support.ppolive.com/entries/20724481)
Validation rules – Although we have always allowed clients to define complex validation rules that govern the updating of data, this functionality was only available on the back-end and required clients to log a support call to have it implemented. This functionality has now been moved to the PPO front-end to allow users to define their own rules. Currently we only allow some of the more common types of validation rules, but this will be expanded in time. Those clients that require complex rules are however still able to contact the PPO Support Desk for assistance (http://support.ppolive.com/entries/20746033)
Support portal – Users will now have the ability to easily access the support portal by clicking on the Support button on the home page. Users will also have the ability to log support calls and view the status of their current and previous support calls (http://support.ppolive.com/entries/21286903)
Upload documents through e-mail – Users can now easily upload documents by just sending an e-mail to documents@ppolive.com with the document as an attachment. The uploaded document will then appear on their home page where they can associate it with the correct project and provide additional details about the document if required (http://support.ppolive.com/entries/20746578)
License management – Authorised users now have the ability to manage the number of licenses from within PPO. Users can increase or decrease their licenses as well as terminating an instance outright (http://support.ppolive.com/entries/20484036)
Additional custom entities – We have added three additional custom entities (e.g. leads, decision logs, etc).
Custom and other entities on the home page – Administrators can now specify which entities should appear on users' home pages, including custom entities (http://support.ppolive.com/entries/20724501)
Employee aware filtering – Some customers with large numbers of users had to maintain many user groups in order to limit the access of users based on geography or divisional characteristic. For example, to only allow users to see projects within their country, a user group had to be created for each country. The only difference between each user group was that it had a different project filter associated with it. We have now added the ability to define a filter with reference to a field which is shared between an entity and an employee. For example, projects may have a country field and so do employees: You can now define a filter that specifies that users should only be able to view those projects where they are in the same country as the project (http://support.ppolive.com/entries/20725811)
Opt out of receiving e-mail notifications – Users are now able to opt out of receiving e-mail notifications defined by the system administrator if they so choose by changing a setting on their preferences page (http://support.ppolive.com/entries/20725876)
Intelligent e-mail tags – E-mail notification can now be customised by adding "smart tags" to the subject or e-mail body. You can for example decide to add an issue title to the subject (http://support.ppolive.com/entries/25111957)
Change your logo – Administrators or other authorised users are now able to change the logo on their instance by simply uploading the logo from the administration menu (http://support.ppolive.com/entries/20737457)
Uploading of project plans created in Excel – For those users that do not have Microsoft Project but wish to upload a simple project plan from Excel, we have added functionality that supports this by simply exporting the data in XML format. Please contact support if you would like more information about this functionality (http://support.ppolive.com/entries/20725511)
We look forward to hearing your feedback and providing further benefits for our future planned upgrades!