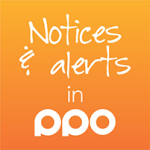 Are you an uber PPO user with the FEAR OF MISSING OUT (FOMO)? Need to be informed of everything happening on PPO? Well then, this latest PPO enhancement is just for you!
Our techies have introduced a clever way for us to keep you in the loop and stay on top of the freshest news from your favourite online project portfolio management tool.
What to expect
An information bar with non-disruptive messages at the top of your PPO instance.
Information relating to new functionality and features, announcements of scheduled maintenance or general tips aimed at improving your user experience.
Messages will appear on every PPO screen until the user closes the message.
See examples below:



What we won't do
Send you daily messages.
Spam you with chances to be a millionaire.
Entice you to spend your cash on the latest and greatest drugs to cure illnesses.
Or ask for any personal information.
This new feature is free of charge to all subscribers and will undoubtedly add value to the PPO experience. Good news is that this feature will soon be available to our clients for internal use.
Ready to submit an idea?
Are you a PPO user and have great idea for a future enhancement? Be the "inventor" of the next great feature by submitting your ideas here.