While we're being honest, our DevOps team loves the excitement of bringing our clients new features, but the real reward is in seeing our users adopt new ways of work and improve collaboration within their PMOs. And that's where the PPO Product Webinars come in. Whether you're just getting started with PPO, or you're a seasoned user, there's always something new to discover and ways to improve! So make sure that you've "saved the date" for this year's remaining product webinars.
Through these feature focused webinars, users get a first-hand look at the latest features in action, learn from experienced consultants and more importantly, get inspired by client stories. In case you missed the "What's new in PPO" webinar, you can still access the webinar recording to take advantage of the insights shared:
…Another reason not to miss out
Anne Curran, PMO Manager, Dovetail Business Solution is the winner of blog subscriber lucky draw competition.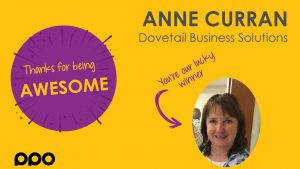 We do our very best to make PPO better every day, so we'd love to hear your feedback on these latest enhancements.
Don't forget to let us know if you have any other product enhancement ideas! Drop us an email or log an idea on our community portal please. More importantly, keep up to date with all our new product information by subscribing to our blog.