Project Portfolio Office (PPO) recognises the importance of sustainable community development and contributed to this cause by hosting an Easter event for the children and volunteers of the Boitumelo Children's Home in Soshanguve on Tuesday, 15 April 2014.
This type of giving back to the community is a key value held by all employees at PPO and to kick start this initiative, a towel drive was borne. In the weeks leading up to the event, towel bins were a permanent fixture at the PPO offices, which resulted in us collecting a towel for each child at the home by the end of the drive.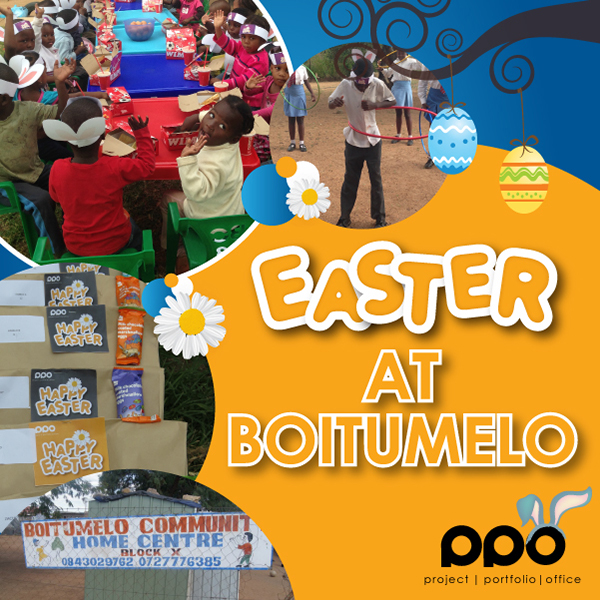 The PPO teamsters, who were as excited as the kids (if not more), arrived at the Pretoria based children's home and were greeted by a sea of smiling faces.  Within minutes, bunny-eared, bright-eyed kids were blowing up balloons, skipping with ropes, playing soccer, and feasting on burgers, chips, drinks and chocolate Easter bunnies. "The children were filled with anticipation for our visitors from PPO. This event not only gave our kids much needed food, educational toys and other sustainable products, it also provided them with an uplifting experience, and allowed them to interact and connect with their sponsors," says Sophie Msiza, Boitumelo housemother.
PPO's donation of three months' supply of baby formula, along with nappies, chairs, tables, educational materials and various toiletries and cleaning products, is just the beginning of the contribution. As an organisation, we want to help to give the children of Boitumelo a better quality of life for the long term.
With all the songs and dancing complete, the PPO team spent the last few minutes saying goodbye to their new friends, and capturing their big smiles to serve as a reminder of the fun-filled day. It was awesome to be there, to interact with the children and to bring some joy and happiness to their lives.
Boitumelo has not seen the last of us and to prepare for the chilly winter months, PPO has initiated a blanket drive! We would like to invite all of our partners and clients to participate, and encourage you to bring your donations with you on your next visit to our offices.
We will see you again soon Boitumelo!
If you wish to participate in this drive or any future initiatives, please contact us at givingback@go2ppo.com