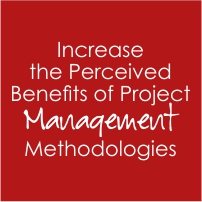 A PMI survey conducted a few years back supported the premise that companies which have instituted consistent project management practices enjoy a higher project success rate than those which have not. PMI's March 2012 Pulse of the Profession publication stated that in organizations which used standardized project management practices, 71% of projects met their original goals and business intent which is higher than the norm.
These two statements would seem to support the merits of implementing a project management methodology (PMM). However, the December 2012 issue of PMI's Project Management Journal includes an article which challenges this conventional wisdom. This article covers the results of a qualitative-based research study to assess the effectiveness of project management methodologies through a series of four case studies.
The research revealed that key benefits identified by instituting PMMs were supporting senior management in their drive to control, monitor, standardize and unify practices as well to help staff with lower levels of project management knowledge or experience. Unfortunately, minimal benefits were perceived by the group which you would expect would benefit the most from PMMs, namely, project managers!
Although somewhat counter-intuitive, these findings align well with my own observations of how successful organizations I've worked with have been at improving their project management capabilities. PMM compliance tends to be strongest with junior practitioners as they find that PMMs act as a guide to give them structure and confidence to lean on in place of tried-and-true experience. Senior management also support the use of PMMs to the extent that compliance with a PMM increases the predictability and consistency of status reporting and governance practices.
On the other hand, experienced project managers don't recognize the benefits to themselves as they will likely have worked with multiple PMMs over their careers and would have honed a set of practices which work best for them – in other words, they have developed their own customized PMMs.
Occasionally, there might be breakthroughs – for example, seasoned project managers who have never benefited from a fully automated project management information system might appreciate the reduction in project administration effort provided by these tools. However, even when using such solutions, flexibility or creativity constraints will exist which generate frustration for senior practitioners.
Just as a person can be spiritual without observing all or even some of the practices of a particular religion, competency at project management is not an effect of compliance with methodologies. In fact, some project managers I have observed as being totally compliant with their organization's PMM regularly demonstrated poor judgment in the management of their projects.
The Guide to the PMBOK (Fourth Edition) states "Good practice does not mean the knowledge described should always be applied uniformly to all projects; the organization and/or project management team is responsible for determining what is appropriate for any given project." This may also be a key reason why agile methods continue to gain new disciples – a key tenet of agile is empowering self-managing teams to define the best methods of managing their work efforts.
So what can you do to increase the perceived value of your PMM in the eyes of your senior practitioners?
Start by classifying the practices within it into the following three categories:
Mandatory practices for which compliance to a standard is essential

Mandatory practices for which compliance to a standard is nice to have

Optional practices
An example of a practice from the first category is creating and maintaining project schedules which adhere to a set of guidelines to enable the ability to report on a project portfolio as a whole. If project managers do not follow these guidelines, it becomes impossible to support enterprise resource management or to visualize cross-project impacts.
An example within the second category is storing the current versions of key project documents within a common folder structure in an online document repository. While it is convenient to store documents across projects using a consistent folder structure, this is a "nice to have" so long as team members and stakeholders are able to locate documents for a particular project.
Lean Six Sigma practitioners might consider the third category as "waste" as these practices are unlikely to be followed by all but the most compliant project managers.
The benefit of this categorization is it allows you to focus compliance efforts where it is crucial, but provide flexibility for all other instances. While project managers might like full "artistic" freedom, most will understand the benefits of consistency where it matters. Go one better by engaging them in the development or refinement of the must-have practices. Finally, kick it up a notch by establishing practices to address some of the pain points experienced by more seasoned project managers and you may successfully turn your former Luddites into advocates!
As Peter Senge said "We all know the difference in ourselves between doing what we're here to do versus doing what someone said we ought to do. That's the difference between aspiration and compliance."
Kiron D. Bondale, PMP, PMI-RMP has worked for over thirteen years in the project management domain with a focus on technology and change management. He has setup and managed Project Management Offices (PMO) and has provided PPM consulting services to clients across multiple industries.
For more of Kiron's views on project & change management, please visit his blog.