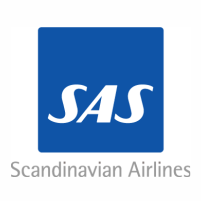 Scandinavian Airlines System (SAS) was founded in August 1946 as a consortium of the national airlines of Denmark, Norway and Sweden.
SAS has since established itself as an innovative, pioneering airline and in the 1960's, it became the first airline in the world to fly over the North Pole and in 1962 was awarded the Christopher Columbus Prize – often called the Nobel Prize of communication – in recognition of it's pioneering transpolar flights. In 1952, SAS was the first airline in the world to introduce Tourist Class, a discounted ticket with certain conditions which drove the entire airline industry to later followed suit.
The airline was founded in the spirit of international co-operation and this same spirit was applied in May 1997 when SAS founded Star Alliance together with Air Canada, Lufthansa, United Airlines and Thai Airways International, offering convenient connections throughout an integrated global traffic system. Today Star Alliance is the largest alliance in the world.
We are thrilled to have SAS onboard!