After numerous entries, the Project Portfolio Office team is delighted to announce the 2013 UTi Project of the Year winners! To recap, this initiative was introduced to identify examples of great project management, which were measured against business benefit, results, collaboration, improvements and lessons learned.
The contest began in September with nominations closing on 31st October 2013. During this period, the UTi project community was encouraged and updated on the nomination standings through Facebook, Twitter, LinkedIn and bi-weekly mailers. Following the nomination process, the projects were subjected to a thorough review against the criteria set out at the start of the competition, and finally the judging panel was ready to select the winning projects and project managers…
The chosen winners have shown how the power of project management has meaningfully contributed to business success and we congratulate them!
To celebrate these project management heroes, UTi and Project Portfolio Office held an "award event" at the UTi Sun Couriers headquarters, where the winners were announced and celebrated over a piece a cake.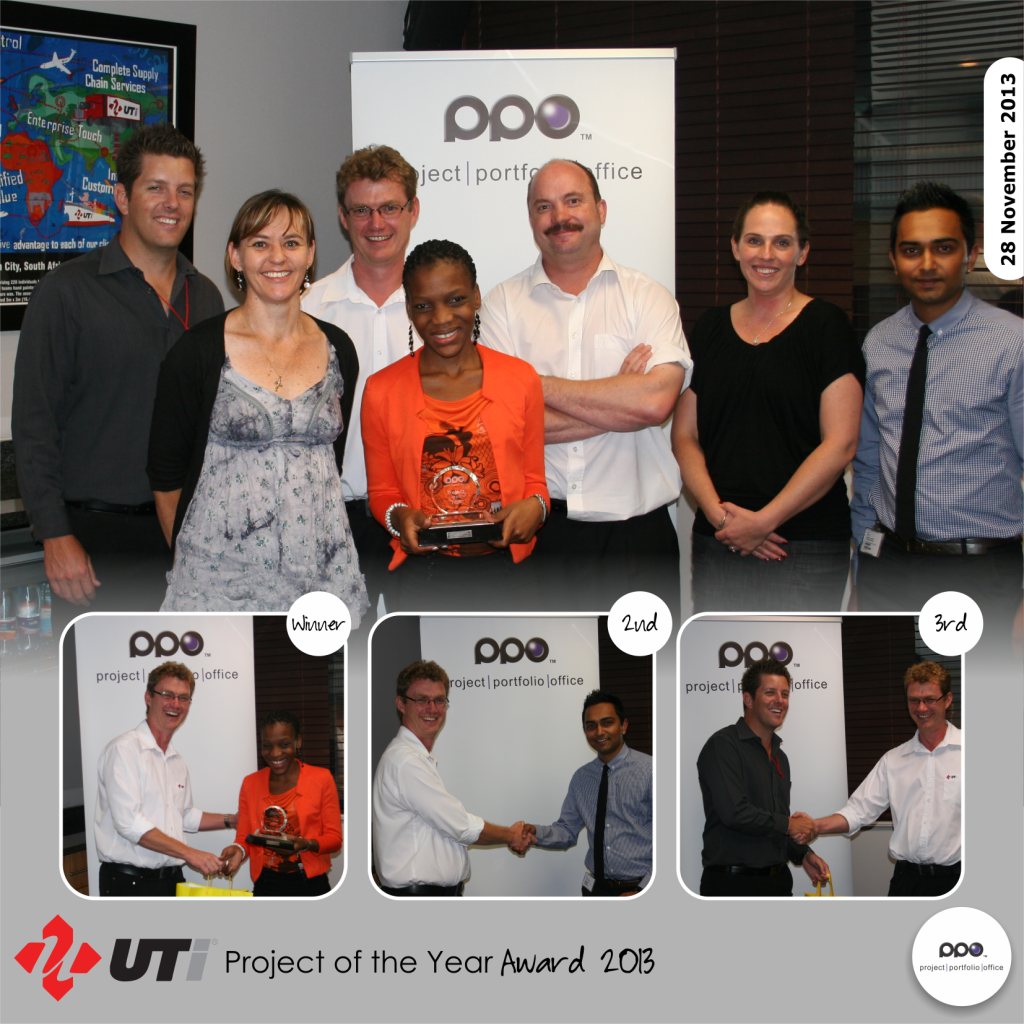 Now, without further ado, the winners and runners up are:
Winner
Samsung, Mmathapelo Maga – The Samsung implementation was initiated to solve a number of issues through the design and implementation of a full warehousing solution. The commitment and support of the project team achieved an increase in revenue and added value for the business.
Runners up
DBE Single DC, Rowen Ganas – The objective of the project was to create a single distribution centre to deliver the school books on time and efficiently. Through this project, the efforts of a highly diverse group of resources across business units and functional groups was successfully integrated resulting in the optimisation of resources and improved stock control
Serico Wave 2, James Britz – This project was aimed at building good relationships and partnerships through the integration of systems and vendors. The reduction of costs achieved through this project and first-to-market advantage made this project a deserving runner up.
Honourable mentions
We would have loved to give prizes to everyone, but there could only be one winner. Here are however a list of honourable mentions:
• SMS / e-mail automation, Brian Whitehead
• Sireco card management services, Trude Heysteck
• Bayer Animal Health, Mmathapelo Maga
• Volkwagen barcode initiative, Luyanda Vappie
• Ground Transportation – VFT / VFT implementation in South Africa, Chad Atkinson
• P04/P06: Meadowview – IS server move, Eurard Roode
• Pharma Meadowview – infrastructure setup and installation, Stefaan Basson
Here is what the judging panel thought of the competition:
"Very impressed with the quality and design of competition leaflets and the communication and feedback pertaining to the status of entrants and general status of the competition." Stefaan Basson, project manager, Enterprise IT Infrastructure
"Great idea to promote general good governance" Hayley Gormley, project manager strategic project & solutions, Mounties
"Very well co-ordinated and professional. Great initiative that will drive the right behavior (sic)." Bruce Acton, project manager, UTi Contract Logistics
"Good communication, easy voting process" Holly Milne, project officer, UTi Contract Logistics
"Brilliant idea, and very well managed" Roné Steyn, project manager, UTi Contract Logistics & Distribution
We want to give a HUGE thank you to everyone involved with this year's competition, this could not have been done without our amazing panel of judges and the UTi project community who entered and nominated these projects.
We look forward to working with UTi in 2014.