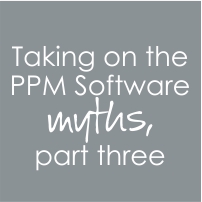 One of the most common reasons for project failure is poor communication, making the elimination of this issue the number one reason for the implementation of Project Portfolio Management (PPM) software. Successful projects can attribute a sizable part of their success to good team collaboration, with all team members having being involved throughout the project. This part of our series (read part one here, and part two here) of articles is centred on exactly how team members using a PPM tool can stay focused and work together more effectively.
Myth three: it is the job of the project manager to maintain the information in the tool
The ever changing project environment pushes teams to become more agile and to respond faster to change, something that is impossible without efficient collaboration. But is this the responsibility of the project manager alone? No, it's not!
More distributed teams and the growing need for information sharing and visibility of projects for improved decision-making have meant that all team members play a role in contributing to project communications, which could include progress feedback, issue escalation and knowledge sharing. Most PPM software, like Project Portfolio Office (PPO), is designed to keep individual team members informed of their work in terms of the tasks, issues and risks allocated to them, and to keep project managers informed of the progress made against these work items.
Improving collaboration
Once a PPM tool is implemented, teams are no longer reliant on e-mail – with the related limitations of a lack of storage and the inability to involve the whole team – for reporting project progress. In order for teams to be more effective, project managers can no longer be the source of all information. If used properly, a PPM tool can in fact minimise the administrative burden of the project manager, while at the same time improve collaboration within a team, making sure that everyone is on the right track and making plans more flexible, thus improving the team's efficiency.
Are you looking for a PPM and collaboration tool that improves teamwork and allows your organisation to collaborate both with internal teams and with clients? If so, try a free 30-day trial of Project Portfolio Office today at: www.go2ppo.com/try.php.
PPO is an award winning online project portfolio management and collaboration application. PPO is simple, immediate, secure and affordable. PPO is flexible and can be configured to support any methodology.