"We rise by lifting others" Robert Ingersoll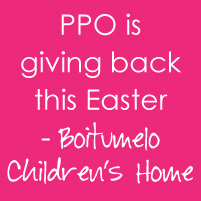 Project Portfolio Office (PPO) is committed to making sustainable improvements in everything we do and extend this philosophy to our culture of "giving back". Our team is committed to change, and for this reason has selected the Boitumelo Children's Home as the recipient of our sustainable contributions over the next couple of months.
Boitumelo Children's Home, which is based in Soshanguve, Pretoria, is home to 42 children, aged from one to 19 years, who have suffered extreme hardships and even worse living conditions. The home was established by owner and mother, Sophie Msiza in 2000. Aged 55, Sophie, who is the biological mother of one boy, but at heart mother of many, is very passionate about her children. She started the home with five kids rescued from the streets of Pretoria. Thabiso Nsube, Sophie's first child, is now a second year graduate in Accounting at UNISA and makes the long hours all worthwhile. Sophie is assisted by six caregivers who generously and selflessly volunteer their time to love, care and, more importantly, educate these forgotten kids. With help that is limited to some sponsorships and donations from the community, these women provide a very basic home environment for the children. Sophie;s dream is to give her kids a chance for a brighter future through primary, secondary and, where possible, tertiary education.
Inspired by the work of Sophie and her team, PPO has pledged our commitment to provide assistance and support to the residents of the Boitumelo Children's Home. There is no time like the present and thus we will kick this initiative off by hosting an Easter event later this month for the house! But we won't stop here and will continue to support Sophie and her huge family.
Follow our blog for more on updates on Sophie and the Boitumelo residents and let us know you'd like to join us in helping them by e-mailing givingback@go2ppo.com