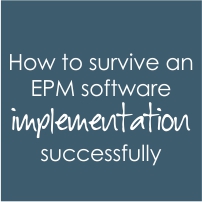 In today's business climate, where every penny has to be accounted for, the advantages of a quicker return on investment (ROI), improved visibility and enhanced decision-making are compelling reasons to investigate the introduction of Enterprise Project Management (EPM) software into your organisation.
Enterprise Project Management can be defined as an effective business discipline and system used to guide a company in the delivery of its business plan, based on the belief that its vision, mission, and objectives are all a set of projects. This type of offering can be differentiated from general project management software by the number of users "touching" the system, as well as the robustness of its features.
While EPM software can certainly help save on project costs, increase efficiencies, improve resource utilisation, enhance collaboration and ensure that successful projects are delivered in a more timely fashion, this type of implementation however may not be the "silver bullet" expected by organisations.
In fact, the reality is that certain underlying issues and weaknesses within a project environment must be solved prior to an EPM software rollout. Without resolution, these challenges can actually be magnified by the introduction of EPM software, resulting in a failed implementation.
In order to overcome these issues, they first need to be identified, andinclude three critical areas, namely poor prioritisation, a lack of governance and inadequate planning and resource allocation.
Let's look at these sections a little more closely.
Poor or no prioritisation
One of the most important benefits to be derived from the implementation of EPM software is the ability to employ prioritisation models to assist with the ranking of projects. Often, organisations find that the wrong projects are being pursued because of a lack of criteria for selecting projects. Many times there are projects with a seemingly lower priority that would actually make a greater contribution to the organisation's success than the current ongoing projects.
In order for a prioritisation model to be serviceable to your business, the required drivers, project information, scoring and weightings need to be defined upfront. Unfortunately, if this cannot be carried out without the utilisation of an EPM system, it will not be possible to execute once the EPM implementation has been completed.
A lack of governance
Most EPM software will allow for the automation and online management of governance processes. In order for these to be applied, however, a governance model needs to be defined beforehand.
While it is common for EPM software applications to provide templates for these processes, theiractual implementation can be tricky and will not address the entrenchment of governance.
It is not a trivial matter to adopt an EPM solution and implement it within a company. A new organisational structure and new practices may reveal themselves.  In fact, it is necessary to define decision-making processes and rules, create the necessary forums and representations in order to allow for the conversations and decision making to take place, and then roll out and run these forums to allow the governance to be applied, long before an EPM system is implemented.
Inadequate planning and resource allocation
As mentioned above, many EPM implementations list improved resource allocation, automation and greater visibility for decision-making as key benefits.Nevertheless, EPM software requires a disciplined approach to the allocation of resources to projects that are deemed more important to the organisation's success. Once selected and implemented, the most important projects must receive priority for resources.
One problem here though is that resource allocation is almost completely dependent on accurate and consistent project plans and schedules to be effective.
So, without good, solid and accurate project plans that encompass detailed tasks, resources and the required effort, you will not gain the benefits defined as above. In a nutshell, accurate and good project planning is a requirement for the roll out of an EPM system – not a benefit received post implementation.
Enterprise Project Management goes far beyond technology, it allows organisations to adapt and transform themselves to move into the future. By taking a rational, less hasty approach to this type of solution implementation, you can ensure that you avoid project failure and reap the many benefits of a successful rollout.
Are you looking for an affordable and reliable web-based enterprise project management application that will ensure a successful implementation? If so, try a free 30-day trial of Project Portfolio Office (PPO) today at www.go2ppo.com/try.php.
PPO is an award winning online project portfolio management and collaboration application. PPO is simple, immediate, secure and affordable. PPO is flexible and can be configured to support any methodology.